Irenea's Apple Tart.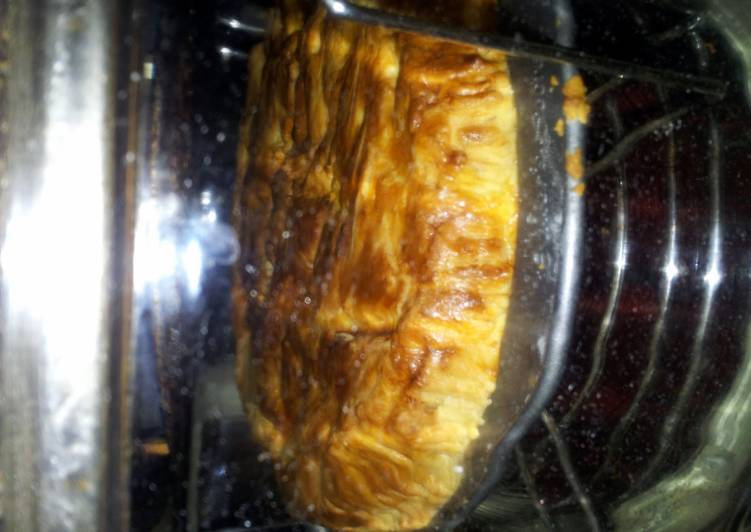 You can cook Irenea's Apple Tart using 7 ingredients and 16 steps. Here is how you achieve it.
Ingredients of Irenea's Apple Tart
It's 150 grams of butter.
It's 70 grams of powdered sugar.
It's 3 medium of eggs.
You need 1 medium of lemon or lime.
It's 450 grams of Apple (crispy & tart).
You need 150 grams of orange marmalade.
You need 200 grams of all purpose flour.
Irenea's Apple Tart instructions
Preheat oven 180C.
Mix flour, butter (cut in small cubes), lemon rinds.
Add 2 egg yolks.
Mix until you form into a ball.
Put in a bowl, cover with plastic wrap & refrigerate.
Divide into 2 & roll out on a lightly floured surface.
Put at bottom of pan & leave some excess at the edge.
Bake 15-20 minutes.
Meantime, core & cut apple into slivers & add the lemon juice.
Alternate layers: apple slices then thin layer of orange marmalade then apples last.
Cover with the 2nd dough & pinch edges closed.
Warm an egg with some milk & brush this over the crust.
Make a crisscut on top so that the inside doesnt pop when it is getting baked.
Bake 30 minutes till golden brown.
Cool.
Put on a serving dish (we like this with a cup of freshly brewed coffee).