Lemon Chicken Breasts with Capers.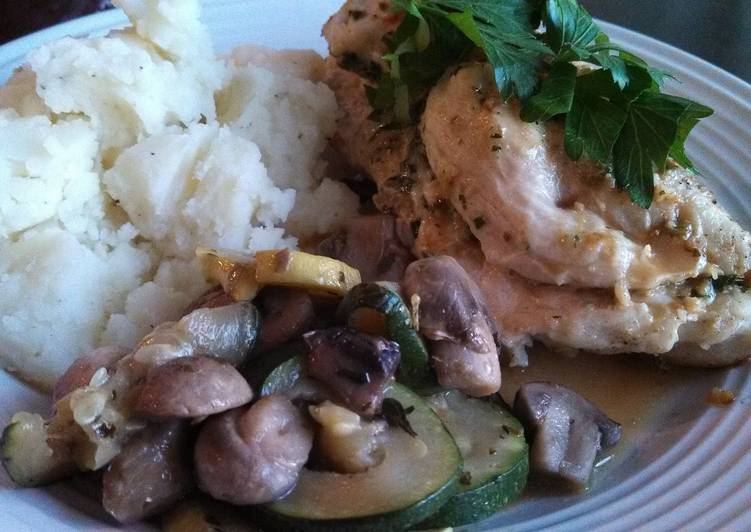 You can have Lemon Chicken Breasts with Capers using 12 ingredients and 16 steps. Here is how you achieve it.
Ingredients of Lemon Chicken Breasts with Capers
You need 6 oz of 4 boneless, skinless chicken breasts.
Prepare 1/2 cup of freshly grated parmigiano-reggiano cheese.
It's 1/4 cup of fine, dry breadcrumbs.
You need 4 tbsp of capers, rinsed, drained, patted dry, and chopped.
It's 1 of lemon, zested and juiced.
You need 2 tbsp of fresh flat-leaf parsley.
You need 3/4 tsp of Kosher salt.
It's 1/2 tsp of freshly ground black pepper.
You need 3 tbsp of butter.
It's 1 tbsp of olive oil.
It's 2 medium of garlic cloves, thinly sliced.
It's 1/2 cup of lower-sodium chicken broth.
Lemon Chicken Breasts with Capers instructions
Position a rack in the center of the oven and heat the oven to 425°F..
Make a lengthwise horizontal slice almost through each chicken breast and open each up like a book..
Flatten the chicken with a meat mallet until it is 1/4" thick..
put the cheese, breadcrumbs, 3 Tbsp capers, lemon zest, and 1 Tbsp parsley in a mini chopper of food processor and pulse a few times to combine..
Sprinkle the mixture on top of the chicken breasts..
Fold each breast closed and secure with toothpicks..
Sprinkle the breasts with salt and pepper..
Heat 1 Tbsp butter and the oil in a large (12"), heavy-duty, oven-proof skillet over medium-high heat until the butter melts and starts to foam, about 2 minutes..
Add the chicken and cook, without touching, until it browns and easily releases from the pan, about 2 minutes..
Turn the chicken and cook the other side until browned, about 2 more minutes..
Add the garlic and the remaining 1 Tbsp capers to the skillet, transfer the pan to the oven, and roast uncovered until the chicken cooks through (165°F), about 8 minutes..
Transfer the chicken to a serving platter and tent with foil..
Set the skillet over medium-high heat; add the chicken broth and cook, scraping the bottom of the pan with a wooden spoon to loosen any brown bits, until it reduces by half, about 2 minutes..
Remove from heat and whisk in 2 Tbsp of the lemon juice and the remaining 2 Tbsp of butter..
Taste and add more lemon juice, salt, and pepper, if needed..
Serve the chicken drizzled with the butter sauce and sprinkled with the remaining 1 Tbsp parsley..