S'mores Nice Cream Parfaits. These S'mores Cream Puffs would be the perfect Father's Day treat for any dad that loves camping (or dessert)! :D Enjoy, and make sure to share pictures of. Asmr ice cream party *chocolate parfait, dippin' dots, magnum, astronaut ice cream eating ASMR S'MORES, CHOCOLATE COATED MARSHMALLOW, PEEPS 스모어, 초콜릿 코팅 마쉬멜로우, 핍스 마시멜로우 먹방. These S'mores Pudding Parfaits are the perfect easy dessert made with new JELL-O SIMPLY GOOD pudding!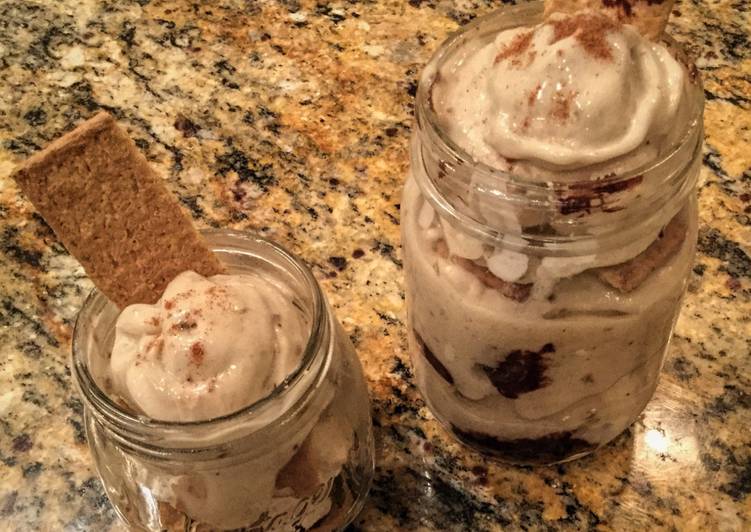 This is one of those quick throw-together desserts for a nice ending to a busy weeknight meal. S'mores and cheesecake unite in this decadent brownie dessert—no campfire required. Beat in yogurt, marshmallow creme and sugar (if you feel like the filling needs to be sweeter). You can have S'mores Nice Cream Parfaits using 7 ingredients and 6 steps. Here is how you cook it.
Ingredients of S'mores Nice Cream Parfaits
Prepare 1 jar of or tall glass.
It's 2 of frozen bananas.
Prepare 2 of organic graham crackers.
It's 4 of regular sized vegan marshmallows.
It's 2 tbsp of dark chocolate chips.
It's Splash of nut milk (almond, soy, cashew).
You need Pinch of cinnamon.
Spoon cream cheese mixture into decorating bag or resealable food-storage plastic bag with a corner snipped off. Our S'mores Parfait uses dark chocolate, marshmallows, graham crackers, and our Natural Kefir Cup to bring a tangy creaminess to every spoonful. This creation is a healthy way to honor those summer nights, allowing you to enjoy the sweetness of s'mores without starting a fire. With this delicious vegan s'mores ice cream, you can bring the tasty campfire treat into your kitchen.
S'mores Nice Cream Parfaits instructions
Process the frozen bananas and cinnamon in a food processor until smooth. Put in a bowl and put it in the freezer to keep it cold..
Place a graham cracker in the bottom of a jar while you melt the dark chocolate chips with a splash of almond milk for about 10 seconds. Stir the melted chocolate and layer it on top of the cracker..
Toast the marshmallows and layer them in the jar/glass..
Take the nice cream out of the freezer and scoop it into the jar/glass..
Continue layering the rest of the ingredients in the jar/glass..
Top with more cinnamon and half of a graham cracker (optional)..
This recipe is easy to make and really easy to eat. Watch the video for the details, then whip up a batch for yourself. Stir in the heavy cream and vanilla. Pour the mixture into the mixing bowl of the Cuisinart® Ice Cream and Gelato Maker fitted with the ice cream paddle. This ice cream brings together the classic s'mores flavors of marshmallow, chocolate, and graham crackers.